Tesla Battery Day
TESLA BATTERY DAY TESLA BATTERY DAY TESLA BATTERY DAY
Hello and welcome to Intercalation Station - we're Andrew & Nick, two energetic individuals in the battery space. We hope this newsletter will be your stop for the latest battery innovations in research and industry, intercalated monthly into your inbox. We'd love it if you share & subscribe! 
---
Still

haven't read enough about

Battery Day

?
We've got you covered.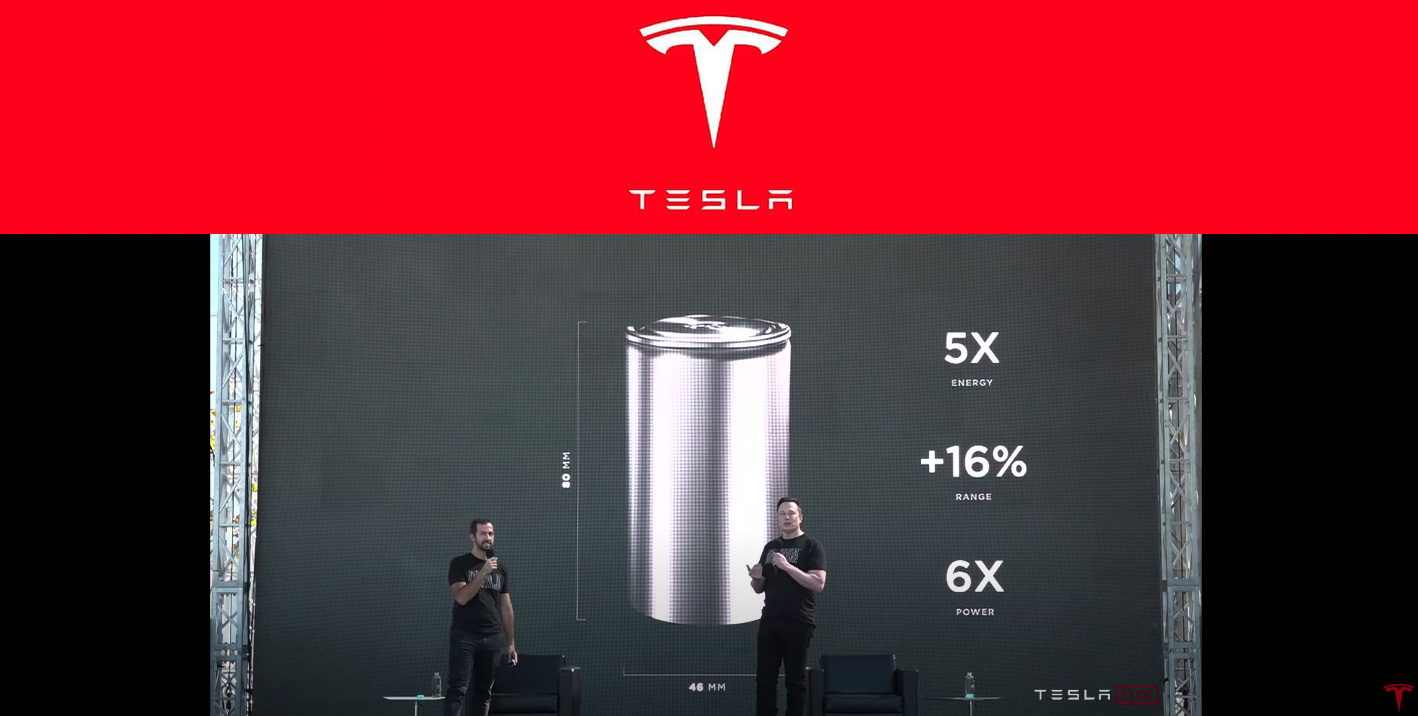 Tesla CEO Elon Musk and Senior VP Drew Baglino gave a whirlwind tour of Tesla's battery strategy over the next 2 - 5 years, with an overarching benchmark: by how many years did we accelerate sustainable energy?
They listed cumulative changes at all stages of the battery-chain to improve range, cost, and production towards widespread EV adoption. We may expect pack prices around $60/KWh by 2025 (from a 2020 $135/kWh), which will be necessary to reach their eventual goal of 20 million vehicles/year on the TWh scale. 

The largest improvements came from engineering and design, with what appeared to be minimal smoke-and-mirrors. Notably, Tesla was conservative on material chemistry innovations, perhaps revealing some insight into their outlook on next-gen battery technologies in the near term.
At a glance, here's how we've categorized which claims to expect on what timelines:

People in the battery research field were perhaps relieved that Tesla did not bet big on any emerging chemistries, afraid to find out: had we missed a glaring solution?
Instead, Tesla chose to increment on current technologies by flexing its manufacturing muscles and their ability to push the envelope on all of us. Their presentation also included a spectacular overview of batteries which we hope will inspire another generation to join the cause.
Sure you can't please everyone from mining through to BMS, but we were satisfied with this peek behind the revered iron (phosphate?) curtain.
Read on for discussions on specific announcements.
---
🔋 CELL DESIGN
4680 cells with tab-less electrodes
Tesla's new 4680 cell (46mm diameter, 80mm height), is >2x in diameter and slightly taller than its current 2170 cell. Larger cells hold more active material with comparatively less packaging deadweight and are cheaper to manufacture. Now "any fool could make a bigger form factor" but it becomes harder to maintain supercharging and thermal control.
Cue the tab-less electrode (or should we say tab-more electrode). This patented technology laser patterns the current collector overhang into many small tabs so that when wound up, form a "shingled spiral" providing electrical contact.
Traditional cylindrical cells have a single welded tab that constricts electron travel. This tab-less design allows for more uniform current distribution, which is important as the electrode is now 5x longer. Going tab-less also alleviates some high-rate heating effects in a cell with larger thermal mass.
Improvements: 5x energy per cell, 6x power, +16% range, 14% $/kwh reduction

Can it be done?: We think this should be easily achievable 
---
🌒 ELECTRODE MATERIALS
Silicon and a cobalt-free portfolio
A lot of confusion was raised about just how much metallurgical silicon Tesla planned to use in their new anodes. Volume expansion and SEI degradation of silicon or "the cookie crumbling and getting gooey" is well understood, but hasn't stopped Tesla using some in current cells. Their new plan is to use cheaper raw silicon, but buffer the expansion with a conductive polymer electrolyte. This approach [1, 2] may have been developed through their recent acquisition of SilLion. There are doubts though, that anode Si% will be high without further development.
On the cathode end, things appear to be business as usual as they aim to cut all cobalt from the battery by using high nickel, nickel + manganese, and LFP material tiers. These will be stabilized by novel coatings and dopants developed with Tesla's Canadian friends.
Improvements: 20%/4% anode/cathode energy increase, 5%/12% anode/cathode cost savings

Can it be done?: Cathode goals are feasible, while silicon remains to be proven
---
🏭 PRODUCTION EFFICIENCY
Increase throughput, dry coating electrodes
Tesla is designing factories to eke out every efficiency and hit "terafactory" scale. This includes speeding up assembly 7x and installing parallel lines while minimizing footprint. Other improvements include no-weld tab-less tabs and bespoke power-electronics to parallelize the formation step during production.
Dry electrode coating technology from Maxwell looked promising at lab-scale, but you couldn't miss the hesitation in Elon's voice. Powder-to-film is a dramatic innovation as it would replace the need for using toxic NMP solvent in the coating slurry.
Improvements: 18% cost reduction, 34% CapEx reduction

Can it be done?: Tesla has been to production hell with cars, we're confident they can do it with batteries. TWh scale is an eventual goal. At-scale dry coating is at least another 3+ years down the road.
---
♻️ SUSTAINABLE SUPPLY CHAIN
Lithium clay, recycling, and cathode manufacturing
Tesla has secured mining rights to lithium clay in Nevada. They plan to use saline extraction of the sedimentary lithium instead of the typical acid-leeching process to minimize the impact. It was noted that Nevada alone has more than enough lithium to electrify the US - whether that is thermodynamically or economically competitive compared to brine lakes remains to be seen.
Pilot full-scale in-house recycling is scheduled to begin in Reno later this year. Currently, Tesla outsources its recycling. After second life applications in Tesla-energy products, these retired batteries will eventually form a closed-loop when recycled as a richer element source than raw ores.
Perhaps the vaguest portion of the presentation was Tesla's entry into cathode material production. Tesla claims to have replaced the metal sulfate precursor co-precipitation step with nickel metal and water process. Eliminating waste-water would be huge for sustainability but we need more than "less stuff happens" to believe it on face value. We're eager to see their team with 10+ years of BASF cathode production experience pull this off.
Improvements: -76% cathode process cost with 0 wastewater, steady-state recycling, sustainable Li extraction

Can it be done?: New cathode production will take 3+ years, recycling will take 10 years to ramp-up to steady-state, Tesla will continue to rely on their lithium suppliers in the near term
---
🚗 CELL TO VEHICLE
Structural batteries
While cylindrical cells pack less efficiently compared to their pouched siblings, Tesla aims to make up for that by integrating the new 4680 cells as a structural element to stiffen the car. This would require simplifying the pack and module design while using some patented novel aluminum alloys. We note the true innovation may be building load-bearing properties into the flame-retardant glue between the cells.
Improvements: 7% cost reduction at pack level, 14% range improvement

Can it be done?: Many OEMs are already looking at structural packs, and we believe this is an intuitive step forward
---
More heated-takes and commentary on Tesla Battery Day may be found in our September "This Month in Battery Twitter".
We'd like to thank the #BMWS community for providing their insights.
---
🌞 THANKS FOR READING!
If you enjoy this newsletter or know someone who would, subscribe here. For news tips, feedback, or business enquiries, please reach out and have a great week!
About the writers: Andrew is an engineering science PhD student at the University of Oxford (@ndrewwang). Nicholas is a business manager at UCL Business and involved in physical science and computer science innovation in London (@nicholasyiu).